WHAT'S IN THE GARAGE/and storage (12/11/04)


Here are a couple of my current cars/trucks:
2004 GMC Sierra Denali-not a Yukon, but a extended cab truck with Quadrasteer. Very Cool truck. 5k miles, bought brand new.
2-1999 BMW MCoupes Just sold my Estoril Blue with 59k miles. I still have a Cosmo Black with 52k miles
1984 944 Spec Race Car- Had 4 podium finishes with NASA in Rookie '04 season including two wins at Willow Springs. I also have an '84 street 944 that runs strong.
1999 Mercedes E55
With the recent addition of the HPS supercharger it is one of the fastest cars I have ever owned and for that matter one of the fastest I have ever driven. The dyno shows over 400hp at the rear wheel and the estimate at the crak is 490! The Torque is well almost 500 lbs/ft. It has neck snapping acceleration and although it doesn't handle like the Lotus or Club Sport it can FLY!!
1996 Chevy c2500 with vortec v8 . Heavy Duty truck with gator ramp
1995 Lotus Esprit S4 (sold)
With only 2 owners and 11k miles it is truly like new. The interior and exterior are 9.5 out of 10 with only a couple of small imperfections. It was kept in a climate controlled Jet Hangar along with some high end Jet's and other exotic cars. It still has the original tires and will no doubt need new ones shortly if I want to really enjoy driving it.

1988 911 CLUB SPORT (sold)
CHECK OUT WWW.911CLUBSPORT.FREESERVERS.COM FOR MORE INFO ON MINE AND OTHER CS'S.
The factory Kardex and research shows this is the only Diamond Blue built. Most Club Sports are White and the Row Club Sports have different graphics. I bought from the original owner, who had it in a heated garage along with 15 other various sport and exotic cars. The owner had a personal valet who would start, drive and detail all of his cars. My plan is to never sell the CS, drive it on weekends and truly enjoy it.

1997 Porsche C4S(sold)
2002 Corvette Z06(sold)
1989 911 Turbo Cabriolet
All are now SOLD

1982 Audi GT Coupe
I just donated to charity since my sisters OLD boyfriend trashed the car.

1979 300cd-gave it to my dad.
After 3 years of begging my friend finally sold me this awesome time warp car. His father bought it brand new and kept the most amazing records I have ever come across. Every single fill up was recorded, along with the mileage, mpg and what additive was put in. He also changed the oil every 3-4 months whether the mileage was high or not. I am going to include pics soon. IT IS CLEAN, CLEAN CLEAN!!!

2001 Ducati 900SS(sold)
My wife hates my motorcycle hobby and really wants me to get rid of this Italian Beauty. The bike is a half fairing and very rare factory Matte Black. It has ducati corse carbon fiber pipes(with different ECU), fender eliminator kit, smoked windscreen, clear turn signals, smaller sprocket front and rear and now has 4,500 miles.

1995 Yamaha FZR600(traded for 944)
Project bike....needs some cosmetic work, but for a couple grand is a pretty nice bike. I just spent getting a bunch of stuff done to it and logged almost 500 miles on it over the past few weeks! A real FUN bike to ride and better than I expected.

2002 Suzuki sv650s
2003 DERBI GPR50
BOTH ARE NOW SOLD
My Cars

Since moving to Los Angeles from New York City in 1998 I have owned the following vehicles
1997 Boxster (bought in CT and shipped to LA)
1994 Mercedes E320 (bought in MI, drove in NY/NJ and shipped to LA)
1994 Jeep Wrangler
1999 Bmw 328i
1986 Porsche 911 Targa
2000 Audi s4
199.5 Infiniti Qx4 (still own)
1998 Honda XR 650L(just traded for Harley rentals)
1979 Dodge Dreamer RV (party mobile)
1991 BMW E30 M3...JUST SOLD!!
1963 corvair spyder convertible

INTERESTED IN ANY OF MY CARS?

I have always loved looking for new and fun things to buy and sell. Although cars can be an expensive hobby (tax, insurance, registration, maintaining and storing) nothing else is quite as thrilling. Part of the excitement is the hunt itself! I looked for over 2 years for the perfect M3 and the Club Sport was pure luck. Being in the right place at the right time and not hesitating to make a purchase (or trade/sell) is a big factor. If I would not have used the internet, networked with friends and hesitated even a couple hours I never would have got the Club Sport.

I try to learn as much as I can about cars AND motorcycles and enjoy spending time driving both.
If you have the same sickness or interested in possible trade(s) or want to buy one of my rides outright....e-mail me who knows?



KEEPING THEM CLEAN

Although I love to wash and detail my cars, I only do so once every couple of months. My regular washes are every week by a guy who comes to my office. He uses professional products that he gets from Griots Garage. Every couple months I have him hand wax (Carnuba) the C4s. It needs to be washed every week just from the commute and brake dust build up.

Send me an e-mail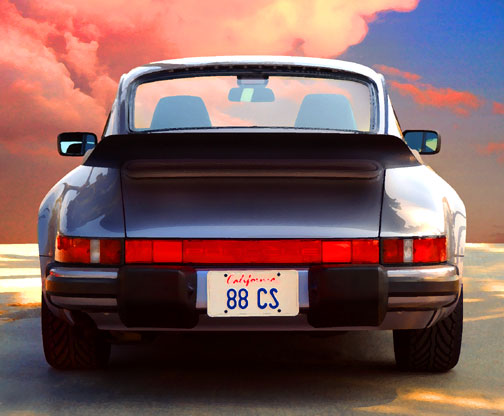 1988 DIAMOND BLUE METALLIC CLUB SPORT 1 OF 28 IN NORTH AMERICA
What's so different about the Club Sport?
*Blueprinted engine, handpicked to be as close to original engineering specs as possible.
*Hollow intake valves and other 930 engine parts along with SP stamped on cylinder heads and barrels
*Weight saving measures: no A/C, back seat, sunroof, passenger visor, door pocket covers, lock for hood, sound deadening or rear window wiper
*Uprated bilstein gas-pressure dampers
*nearly .5 second faster 0-60 time than regular 3.2
*Higher redline (6,850)with different DME unit
*short shift pattern and shifter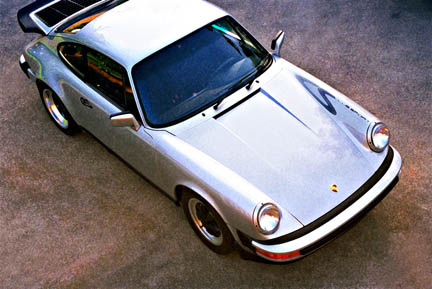 TOP 10 PORSCHE OF ALL TIME!!!

The Club Sport was recently named one of the Top 10 Porsches of all time by the writers of EVO Magazine. In my opinion the low production numbers, (28 imported to North America) alone make this an incredible unique car to own.


The Evo article was in the october 2001 issue with a yellow Lambo on the cover. I am trying to get a copy and am having diffuculty with the link to the magazine.


If you have any questions or information on the Club Sport CLICK HERE and you will be linked to my CLUB SPORT WEB-SITE